SALTILLO Tile
Saltillo Tile Products –     Installation Gallery      Get a Price Quote Online
(We will BEAT any competitor's price in the U.S.)
Saltillo tile is one of the most famous products of the Mexican city of Saltillo, Coahuila.   It is the "perfect imperfect tile".  We manufacture 3 styles of Saltillo tile:
TRADITIONAL Saltillo (Terra Cotta shades)
MANGANESE Saltillo (Terra Cotta and Browns)
ANTIQUE Saltillo (Old-World Style and Textured)
There is a 200 square foot minimum requirement for all saltillo tile wholesale orders.  Saltillo tiles vary in color, size, and shape.  The majority of these traditional Mexican tiles range from hues of reds, oranges and yellows.  Manganese Saltillo tiles vary in Terra Cotta flooring colors of red, orange and Brown colors from lighter to darker shades.  Antique Saltillo floor tiles have the appearance of old saltillo that is darker in shade but also reveals the terra cotta colors.  Antique Saltillo tile also has more texture on the surface of the terracotta.  These old style pavers are also referred to as Terra Cotta floor tiles.  No two tiles are the same.  No tile is perfect – The beauty of saltillo tile floors is lies in the fact that all tiles have rustic, handmade characteristics.  Authentic saltillo will have variations in size and thickness.  Smaller mexican tiles are more consistent and larger mexican tiles (12×12 or larger) have more of these handmade tile variations.  These tiles do not lay flat and we recommend an experience installer to accommodate for the hand made tile characteristics.  Please visit our Installation Guidance page for more detailed information about authentic Mexican floor tiles.
Saltillo is a versatile tile that can be accompanied with many other decor ideas like spanish tile. Please visit our Gallery Page to view the beautiful color schemes in photos from our customers.
Authentic Saltillo Tile only comes from Saltillo, Coahuila Mexico and it is made by hand. This Mexican clay does not exist anywhere else in the world. It has been made for generations by the Tlaxcaltecas Artesans since 1577. This is the genuine article; beautiful, charismatic, imperfect, and authentic. Technically this is mexican tile though it is often referred to as spanish tile.  Request a quote and enjoy wholesale prices with LOW shipping rates!
---
How much does Saltillo tile , Manganese Saltillo, or Antique Saltillo tile cost? Our wholesale prices on Saltillo tiles are the lowest prices available in the Mexican tile industry. Discounts are available for large quantity purchases and for our Retail Stores.  Manganese and Antique Mexican tiles  and spanish tile are more expensive than traditional saltillo tiles.
---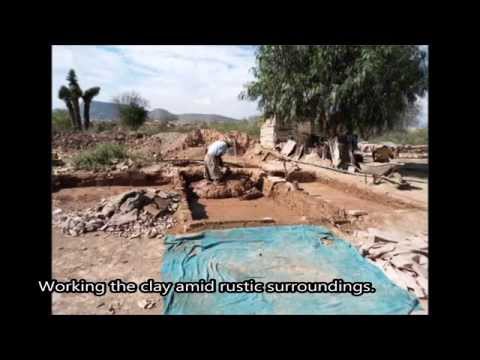 Saltillo Clay is dug from the earth in its raw from. In man-made pits in the ground, water is added to humidify the clay for the curing process. Once the clay has been cured, it is then shaped by hand into molds.
Tiles are shaped either by pressing quarried clay with a wooden frame (Super), or carving out the desired shape (Regular). Super Saltillo has rounded corners and edges while Regular Saltillo has sharp square corners and edges.
As these Mexican tiles dry in the sun, an occasional coyote, chicken, or dog may pass by and leave their foot prints on a few tiles. This is a mark that you are getting authentic Saltillo tile. The tiles are then fired in a kiln for 36 hours at extreme temperatures, and then cooled for another 32 to 36 hours. At this point, they are either sealed with several layers of our low gloss finish, oil-based industrial sealer or left "raw" or unsealed. Raw Saltillo Tile is also known as Terra Cotta or as Unglazed Terra Cotta.
Manganese Saltillo tile is manufactured in the same process and of the same clay as normal Saltillo tile.  When the clay is in its wet form, Manganese is added to the clay and this changes the tile into a beautiful brown tile that has varying shades.  Because the process is more involved, Manganese tile is slightly more expensive than normal Saltillo Mexican tile.  Color/texture varies in Manganese tiles as it does in traditional Saltillo tile.  With manganese tiles, the clay will also have swirling dark marks of manganese powder that is mixed into the clay, as well as colors of terra cotta will bleed through.  These tile pavers will also have chips, cracks, and bumps.  These are not defects.  These are part of the rustic characteristics of this Mexican paver that people have enjoyed for centuries.  No two Mexican tiles are the same.  Each is unique and different.
Antique Saltillo is a hybrid of Traditional and Manganese finishes.  Antique Saltillo tile has texture on the surface and is rubbed/sealed with manganese dioxide to give it an old world look.  Terra cotta shades are also prominent and every tile is different.  See our installation gallery for photos or request photos/samples. (Note: Extra amounts of the manganese dioxide powder can be added to the finish of these tiles to produce darker colors of what looks like reclaimed terra cotta tiles.
For information about how to install saltillo tile, please click here.  Request a Quote online!
---
Depending on the raw tile's placement among other tiles at the time of firing, its color ranges from yellow to a rich orange. Sealed saltillo tiles are darker in color than the Unsealed saltillo tiles. Raw terra cotta tiles may exhibit portions of a white residue, Alkali. This is not harmful to the tile but it must be scrubbed off of the tile to eliminate the slightly white appearance. This substance sweats out of the clay as it dehydrates.  Authentic Saltillo tile (including manganese tile) is also know to have some Lime Pops.  These are deposits of lime that can appear as bumps on the surface of the clay.  If popped, it will expose a white powdery substance. To fix, simply seal over the exposed pop on the spanish tile.  Lime pops and Alkali are not considered defective saltillo tile.
Traditionally, smaller tiles will burn darker in color than larger tiles.  This is an effect of heat concentration in the kiln.  Heat also affects what some people call striping.  The appearance of once color through the middle of the tile and contrasting stripes on the outer edges is completely normal and to be expected on some tiles.  This color variation in the terra cotta floor tiles comes from heat distribution and stacking of the clay tiles in the kiln.
Please contact us if you would like a sample to view the color variations or visit our Gallery!
You can expect that our Authentic Satillo tile is hand-pressed, chipped, cracked, has color variations from tile to tile, and has the occasional dog or chicken print. No two tiles are identical – colors, sizes and textures will vary! You can also expect to buy this tile for the lowest price and highest quality available at Rustico Tile and Stone.
The Photos show our standard sizes that are carried in stock. Saltillo Tile is also available in Large Sizes: 16 x 16 inch, 18 x 18 inch, and 24 x 24 inch. These sizes require more overage than normal because they are very fragile to ship. Installation of our delivered tile deems acceptance of the tile. Request a Quote. back to top
---
If you would like to retail any of our products, contact us directly for prices. We will provide you with retail pricing information, marketing support, and we will educate you and your staff about our product.  Request a Quote online!
---
Our Commitment
When you are laying a Saltillo tile floor, Rustico Tile & Stone  is your resource for high-quality, affordable Saltillo tile. Whether it is Saltillo floor tile or unsealed terra cotta floor tile that you are looking for, Rustico Tile & Stone is the place to be. We offer a wide selection of wholesale Mexican floor tile at reasonable prices. We will provide all of the materials for your Mexican tile floors with our large stock of tile. You will not find Saltillo tile wholesale at our prices and with our selection and service anywhere else!
If you are going to install Mexican tile, you have come to the right place to purchase the tile. As one of the top wholesalers in the Saltillo tile industry, we oversee the Saltillo manufacturing processes in Mexico to ensure that our products are of the highest quality. We take pride in bringing you some of the best and most affordable Saltillo tile anywhere.  Request a Quote online today!  We will BEAT any competitor's price in the U.S.