Install Mexican Tile on a Slab subfloor
Do-It-Yourself Directions on How to Install Mexican Tile onto a Slab subfloor are below. 
Every day we receive phone calls with questions about how to install Mexican tile or Saltillo tile.  There are many myths about the complexity to install Mexican tile and how to seal these terra cotta floors.   We hope to help clear the confusion with this easy step-by-step guide on prepping your floor and how to install Mexican tile.
The directions below are recommendations to install Mexican tile.  Many variations to these steps may exist for your specific floor and terra cotta tile.  Please consult with your experienced local contractor or installer for more precise advice relevant to your specific floor and Mexican tile purchased.  Installing a knock-off machine made saltillo or terra cotta is not the same process as installing an authentic handmade saltillo Mexican tile.  Due to the size, thickness, and shape variations, we recommend an "experienced" installer for authentic saltillo.  Rustico Tile and Stone is not responsible for saltillo installations not completed by one of our contracted installers.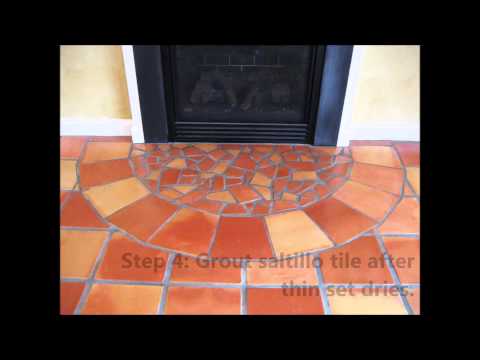 Slab Sub floor guide to install Mexican tile: If you have a concrete slab subfloor, you first need to: 
(A) Prep the sub-floor by examining for any cracks or foundation issues.  If there are surface cracks, fiberglass mesh and elastic polymer (i.e. Red Guard) can be used.  DITRA can also be used and is highly recommended if foundation problems exist or if the slab is on sandy soil (or if foundation is apt for movement).
(B) Once the sub floor has been prepped, you are ready to apply thinset.  If using the DITRA product mentioned above, you do not need elastic thinset.  We recommend PermaFlex 500 or PermaFlex 300 Medium Bed thinset which can be purchased and shipped with your saltillo tile from Rustico.  ½" x ½" trowel is recommended for a basic 12×12 size saltillo tile.  Increased thickness of thin set is required for tiles larger than 12×12 in size.  For other sizes, consult with your experienced installer.  On average, a 45 lb bag of PermaFlex 500 or PermaFlex 300 Medium Bed will yield approximately 45 square feet of saltillo tile installed.  PermaFlex 500 is more versatile and has superior flexibility and strength as compared to PermaFlex 300 Medium Bed.  
(C) Install Mexican tile (assuming it is presealed.  If it is unsealed, see tips at the bottom of this guide).  With a standard 12×12 size tile, a minimum grout line recommended is ½" (thicker for larger size tiles).   We do not recommend using spacers with authentic handmade saltillo tile to allow for the size/shape variations.  Your installer will need to pay attention to detail to keep the pattern of tile layout consistent.  This is not a complicated process.  The terra cotta tiles can easily and precisely be cut with a wet saw.
(D) Grout Mexican tile floor after thinset dries (usually overnight waiting period).  Recommended grout includes a sanded grout or mortar mix.  This can also be found at a local home improvement store.
(E) Clean Mexican tiles.  You will need to clean your Mexican tile floor very well to remove any grout haze or debris accumulated during the installation process.  Once the floor is thoroughly cleaned, allow it to dry for several days.  Our StoneClean 104 cleaner, water, and a sponge or brush can be used for cleaning the floor.  If you choose to you any other type of chemical cleaner, follow this step by a few mop-washings of 50/50 mixture of acetone and water.  Any residual cleaning chemical must be fully removed prior to applying your top coat of saltillo sealer.
(F) Seal saltillo or terra cotta floor.  Once your installation is complete, cleaned and thoroughly dried, you can now apply the top coat of tile sealer.  We recommend our long-lasting IndustraGloss GREEN or TERRANANO sealers.  Follow manufacturer's instructions for applying tile sealer.  An ideal top coat sealer will last several years and can also be applied to the terra cotta grout lines.  Allow the terra cotta sealer to fully dry and cure.  Once cured, installation is complete.  Enjoy your Mexican tile floor!
A few tips:
If you are installing presealed Mexican tile (most common), we do NOT recommend soaking the Mexican tiles prior to installation.  Soaking these sealed tiles can create bigger efflorescent issues in the future if water is trapped in the clay for long periods of time.
If you plan to install Mexican tile that is unsealed, you can soak these tiles prior to installation OR apply saltillo tile sealer prior to installing the Mexican tiles.
Do NOT dry stack Mexican tile installations.
Make certain that top coat sealer to be applied is compatible with any sealer already on presealed tiles.
Accommodate for size and thickness variations by attending to detail of thinset and grout thicknesses.  An authentic saltillo tile floor is not a smooth, completely level floor.  The tiles are pillowed as part of their handmade characteristics.  This is completely normal and not considered a defect.  Larger Mexican tiles will have more of these levels of variations.